Florida is the perfect place to go for the ultimate family vacation, and the best things to do in Florida are only limited to your imagination. This state is the ultimate romantic getaway or family fun or adventure-seeking adventure!
Florida is known for its climate, which makes it the Sunshine State. You can find the beauty, the inspiring landscapes, the jet-set lifestyle, and the wildlife in Florida. And then there's the entertainment.
Florida has many things to offer!
There are many options when it comes to holidays.
To get an idea of all the options for family holidays, take a look at these Florida holidays. 
You can also organize your flights yourself, or combine them with accommodation in different parts of Florida as part of a Florida road trip.
No matter what type of vacation you choose, there are plenty of things to do and see!
Here are just a few suggestions to help you get started:
1. Bok Tower Gardens – Lake Wales, FL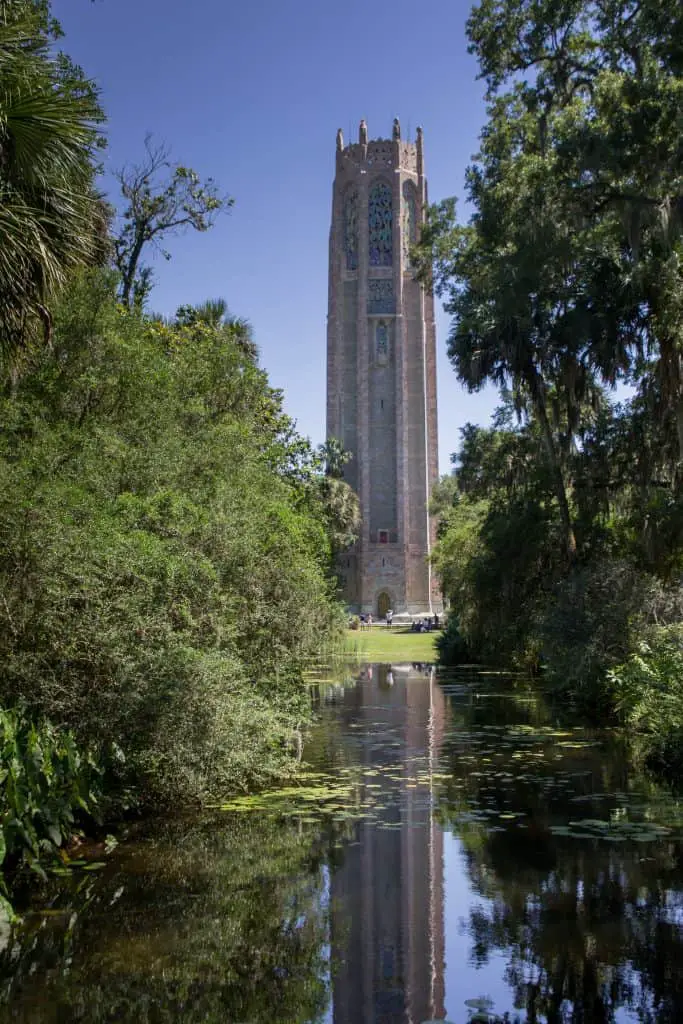 Frederick Law Olmsted, Jr. designed this 250-acre bird sanctuary with its majestic carillon for Edward W. Bok, a Dutch immigrant, author, and humanitarian.
Bok envisioned the sanctuary as a place for quiet repose, and natural beauty, and offered it to the American people as a gift in a dedication ceremony that was delivered by President Calvin Coolidge on February 29, 1929.
Bok Tower Gardens is a lush landscape that offers birdwatchers a chance to see Florida's native hammock plants.
The gardens' main feature is the 205-foot Singing Tower or carillon. 
It is located on the sacred Indian burial ground. This makes it the highest point in Florida.
Large live oaks, Sabal palms, magnolias, and azaleas are included in the naturalistic hammock scene and for nature lovers, provide shelter for the more than 100 bird species that are found within the sanctuary. 
In 1972, the Bok Tower Gardens was added to the National Register of Historic Places. They were also designated as National Historic Landmark by 1993.
2. Kennedy Space Center – Cape Caneveral
If you're a Florida vacationer, you may have seen the space shuttle Atlantis displayed at the Kennedy Space Center. This is a must-see event for all space enthusiasts.
Even if your interest isn't too deep in planets and stars, you will be captivated by the sheer magnitude of space travel. You can take a guided tour of the Launch Control Center, the Vehicle Assembly Building, and Cape Canaveral.
One of these apps makes it easy to plan your visit to the Kennedy Space Center or any other site around KSC.
The Visitor Center app provides all the information you need to plan your trip to KSC, including an itinerary planner and launch date information.
You can access NASA TV from your smartphone with the official NASA app. It provides information on all current and upcoming launches, as well as news and updates about NASA missions.
The Apollo / Saturn V Center is of particular interest. The Center is dedicated to commemorating the country's moon missions. It includes an authentic Saturn V rocket, the Apollo 14 capsule, and the firing area used to launch men to orbit the moon.
3- Explore the Everglades, FL
Everglades National Park is a vast swampy area that is home to many animals, large and small. It really shows Florida's wild side. You can take an airboat ride for a guided tour.
It's a good thing that most people who visit Florida don't have to list of things to do in the Florida Everglades. It's one of the best parts of being a Floridian.
That is unless you want to plan a trip to the Everglades in order to look for a certain species of bird or plant. If you do happen to stumble upon a species you love, you will be able to take pictures and enjoy it at the same time.
If you're looking for a list of things to do in the Florida Everglades, here's what you need to know:
There are actually dozens of areas in the Everglades where you can go to enjoy all sorts of adventures. In fact, there are more adventures in the Everglades than in any other place in the world.
It's the perfect place for nature lovers, adrenaline junkies and total newbies all rolled into one.
4- Walt Disney World, Lake Buena Vista, FL
A day at Disney Magic Kingdom is one of many theme parks and is a must on any Central Florida vacation. You can meet your favorite cartoon characters, and enjoy the thrill of a lifetime on large dippers or rollicking rollercoasters.
You're sure to have fun with the whole family!
The Walt Disney World Resort sometimes referred to as Walt Disney World Resort and Disney World, is a tourist attraction complex in Lake Buena Vista and Bay Lake, Florida, near the communities of Orlando and Kissimmee, Florida.
It is one of the most popular tourist destinations in the U.S. The resort was opened in Florida in the year 1971 and was designed around the concept of inter-connectedness.
It encompasses more than two hundred different shops, restaurants, hotels, and other attractions located throughout its seven themed villages.
Among these are Disney's Epcot Center and the Animal Kingdom.
5- Visit the Florida Beaches
Panama City Beach (Florida Panhandle), Miami (S. Florida), and Clearwater Beach (West. Florida) are great places to visit for beautiful, white sand beaches and water sports in the state of Florida.
You can also take a trip down to Miami for a day of fun things to do and mingling in a similar A-list environment.
Miami Dade is the perfect place for you. It has several popular public beaches including an 18-mile long strand called the Miami-Dade Causeway.
The beach has lots of restaurants, shopping, and nightlife.
If you want to be close to the beach and have access to cool water, then you should consider South Beach. The beach is one of South Beach's main attractions, especially for those who love coral reefs, the sun, and the sand.
There are tons of hotels, condos, and other housing options available here, and the view is definitely something to behold. Just make sure you check out the times and seasonings of local restaurants and attractions so you know what is best for you.
Also Read: Why We Love the Miami Beach Boardwalk (And You Should, Too!)
Panama City Beach is a beautiful, white-sand beach and popular vacation destination in northwest Florida just south of Saint Petersburg Beach.
It is renowned for miles of beautiful white-sand beaches fronting the pristine, calm waters of the Gulf of Mexico. St. Andrews State Park, among two protected nature preserves nearby, is also bordered by the Gulf and boasts magnificent hiking trails and excellent fishing piers.
In addition to magnificent beaches, the area is renowned for its vast natural wildlife.
Guided tours of the Panama City Beach marshes will show you the sights and sounds, where you're sure to have the best time viewing all sorts of tropical birds, animals, and insects as you explore the natural landscape.
One of the popular activities is sky wheel surfing, which utilizes an inflatable sky wheel that lets participants take to the skies on a breathtaking ride.
There are several beaches at the camp, Helen State Park, where sky-wheel surfing is legal.
Located on the beautiful Gulf Coast of the Atlantic Ocean, Florida. Clearwater Beach is one of the popular destinations in Florida and delivers a relaxing lifestyle for tourists and locals alike. Laid-back, clear water gives way to a variety of activities.
Even if you're not into surfing, sailing, or swimming, Clearwater Beach is one of many beautiful beaches and offers great fishing opportunities, boating, wakeboarding, jet skiing, and wakeboard competitions.
ions, as well as fun family beaches and parks for kids. If you love wildlife, visit the National Wildlife Refuge, just a short drive away, and enjoy viewing birds, reptiles, and mammals from a nature trail.
If you're looking for unique nightlife, then head to the Frenchy for some dancing into the late hours.
Located on Biscayne Bay's shady, open-air end, Frenchy is a local favorite and hip nightclub that features open-air terraces, private decks, karaoke, and live entertainment every night.
The best way to learn French is to visit the Frenchy with a live instructor, but there are also many learning centers in Clearwater Beach Florida that teach a basic understanding of the language.
For those who don't want to hire a personal trainer, take a self-guided tour of the beach; this will allow you to view the ins and outs of the Frenchy and find out for yourself what makes it such a popular beach hangout.
On the nearby Indian River Beaches, you'll find one of South Florida's most popular attractions: the Clearwater Beaches State Park.
Located on the Indian River's western edge, the park is less secluded than the Frenchy but is just as beautiful.
If you love being out on the water, then the park offers boat tours, kayak rentals, nature walks, nature programs, picnic lunches, swimming, beach volleyball, and an indoor climbing wall.
Don't forget to check out the state parks' gift shops, which offer souvenirs that include T-shirts, key chains, sunglasses, mugs, and even petite pies.
If you're heading to Clearwater Beach Florida for the weekend, then the above-mentioned beaches provide the perfect getaway.
6- Salvador Dalí Museum – St. Petersburg, FL
The second-largest collection dedicated to the most well-known surrealist in the world is located on the waterfront of St. Petersburg. The building itself is surreal, with its melting clocks, spindle-legged horse, and waxed mustaches.
Since 1982 when the large collection of Reynolds and Eleanor Morse moved from Cleveland, St. Petersburg has been the home of the Dali Museum.
The current museum has over 2000 works and was moved from its original warehouse in 2011. 
The "Sunshine City" in Florida, where the local newspaper used to promise a free copy if it wasn't shining, is the perfect place for Dali's artwork.
It's also a fitting location since it's now on display at the museum. The building is surrounded by huge, bubble-like skylights.
There are also wall lights that light up the walls. The sun streams through 900 strangely-shaped windows. Combining this effect with Dali's fluid, organic paintings and the swirling central staircase, it creates the feeling that you are walking in the body of a living creature.
It does feel a bit surreal!
7- Devil's Den – Williston, FL
Named after the steam rising from the cave's chimney, the scuba diving training center was named.
DEVIL'S DEN IS A KARST window, where the roof of a subterranean stream has fallen, exposing the water to the surface. It is located near Williston in Florida and is privately owned.
Comfortable diving is possible year-round thanks to the 72-degree air temperature. You can see steam rising from the chimney of the cave on cold winter mornings.
This is why the area was called Devil's Den by early settlers.
Devil's Den Natural Springs is restricted to scuba divers, snorkelers, and swimmers.
Pets and animals are not allowed as the owners own their pets/animals and don't want to have any confrontations with them.
8- Venetian Pool, Coral Gables in Florida
The largest freshwater swimming pool in America, the Venetian Pool is located in Coral Gables. This unique water feature is constantly emptied and refilled throughout the summer to maintain the water's purity.
The public pool was built in 1923 from the remains of an old coral rock quarry. It was designed after a Venetian Grotto to bring a bit of Mediterranean style to the States. 
The pool was connected to a scenic bridge that was constructed above it. There were also mooring posts that allowed gondolas to pull up to the pool. However, this feature was eventually scrapped.
This is a great place where there are a variety of natural grottos nearby that swimmers can explore.
9- Neptune Memorial Reef
Neptune Memorial Reef, located in the Florida Keys, is a unique destination and has been serving as an underwater burial ground for loved ones, a world-class dive site, and a marine ecology sanctuary for years.
Neptune Memorial Reef, an underwater mausoleum and reef, is located about 3.25 miles east of Key Biscayne, Florida, and is 40 feet below sea level.
The Reef is also a memorial for cremation and was inspired by the Lost City of Atlantis. The best part is that the Reef also offers cremation services for more than 250,000 people. 
In 2007, the Neptune Memorial was established using a non-polluting method that promotes the active growth of marine life.
The Reef's memorialization is accomplished by carefully mixing cremated remains with natural concrete.
This is then molded into various artistic structures and secured with an engraved memorial plaque.
Also Read:The Secret Life Of Alligator Reef
10- Fern Forest Nature Center, Coconut Creek, FL
Fern Forest Nature Center, which covers 247 acres of a nature preserve in South Florida, is home to one of the best collections of preserved native plants in South Florida.
It was first opened to the public on May 1, 1985. Since the beginning of the 20th Century, the designated Urban Wilderness Area was called Cypress Creek Hammock. It was designated to protect state farmlands. 
The site was first surveyed in 1979 by scientists at Florida Atlantic University. It was then designated under its current name to help protect over 200 native Florida plants.
It is now home to more than 30 native fern species, including the endangered primitive whiskey fern. The park's nature center offers a variety of indoor and outdoor rental options. Visitors can also explore the interpretive exhibits. 
The Prairie Overlook Trail is a mile long and offers a 20-foot observation deck.
The Cypress Creek Trail, which is ADA-accessible, meanders along a boardwalk through a hardwood hammock, maple, and cypress forest. The Sensory Garden Trail, the Maple Walk, and the Fern Lore Garden sculpture are just a few of the other attractions.
11- Jules Undersea Lodge – Key Largo, FL
Close to Key Largo's John Pennekamp Coral Reef State Park, Florida, there is another way to enjoy the beauty of the underwater world while remaining warm and dry.
Jules' Undersea Lodge is named after Jules Verne. To get to your bedroom at the bottom, you must wear a scuba suit.
If you're one of those people whose mind jumps to films about a terrifying underwater world but are trapped thousands of feet below it all, Jules is just two fathoms away.
If you want to escape the city noise, construction ruckus, and sirens at night, then the ocean floor may be the best option.
You'll feel right at home!
12- Busch Gardens – Tampa, FL
Busch Gardens, Tampa, is owned and operated by SeaWorld. It features exciting roller coasters and safaris. The park also houses more than 12,000 animals, including 300 species that outnumber some zoos. 
The famous Sheikra rollercoaster is a thrill-seeker's dream. It drops riders face down at an alarming 90-degree angle and speeds up to 62 mph. USA Today readers ranked Busch Gardens among the 10 best amusement parks in America.
Busch Gardens Tampa Bay offers everything you could want in a great theme park. You will find every kind of ride at the Gardens, which is a great entertainment venue.
This is a top-rated theme park in North America and is set in a beautiful botanical garden. This theme park has a lot to offer. You can see different species of plants, and learn more about the flora.
Another thing you can do at Busch Gardens Tampa Bay?
Explore the wildlife and learn about the African fauna. The park's large zoo is a major draw. Locals and tourists alike love the Busch Gardens. Every year, the park attracts more than 4 million people from all around the globe.
13- Butterfly World – Coconut Creek, FL
Butterfly World, the largest butterfly park in the world, is home to over 20,000 live butterflies. Ronald Boender, a Florida electrical engineer, was inspired to create the park.
In 1984, MetaScience was established to supply worldwide zoos with butterflies. The pair met Clive Farrell, founder of London Butterfly House, and in 1988, Butterfly World was established as a public attraction, research facility, and tourist attraction. It is the first park like it in the Western Hemisphere. 
It is home to America's largest free-flight hummingbird colony, the Tropical Rainforest Aviary, and the Butterfly Emerging Area.
You can walk through Grace Gardens' outdoor botanical garden and view the insectarium's mounted specimens. Or, you can observe butterflies in different stages of their development at the park's laboratory facility.
14- Castillo de San Marcos – St. Augustine, Florida
Castillo de San Marcos is the only 17th-century fortress left in North America. It protected the Spanish colony at St. Augustine, the oldest city in Florida, against two British sieges during the European settlement of the Americas.
It is now a National Monument and provides a unique look into Florida's past. It is constructed from a distinctively Florida stone, coquina. 
This stone fortress is located on 20 acres along Matanzas Bay. It can be seen from any location.
Castillo de San Marcos is a must-see if you visit St. Augustine. It's the massive, star-shaped stone fortress that you will see as you approach the historic district from the north. 
This national monument is located at the southern end of a riverside promenade. It is home to dog walkers and morning walkers as well as tourists with cameras.
It is the oldest masonry fort built in the United States. The exterior of the fortress is impressive, but it's worth the effort if you are a history buff. 
Alternately, you can just be dwarfed by the surroundings. It is situated on a 20-acre site of grassy land near the river, which is also great for picnicking.
Also Read: Where is the Kennedy Space Center?
15- Wall Street Plaza – Orlando, Fl
Wall Street Plaza is a must-see if you agree. It is home to a number of bars, restaurants, and nightclubs all within a single block. Wall Street Plaza opened its first bar in 1995. 
It has since expanded to seven venues. On weekends, the grand outdoor Block Parties draw a crowd. The Wall Street Plaza hosts some of the most exciting and memorable Special Events in Downtown Orlando.
There is something for everyone at the venue. The venue caters to all ages. The bar and restaurant are open during the day, while the party bar is open at night. There's also a Tiki bar and a dance club. Wall Street Plaza offers something for everyone every night!
The Saturday and Friday nights are more lively than the rest of the weekdays because the Block Parties that are most popular are held outside. The street is packed with people who want to live the best night of their lives.
There are many bars and restaurants within walking distance of the plaza.
16- Sea World – Orlando, FL
One of the top attractions in the area is Sea World Orlando Florida. You will need to walk a lot to see all of the attractions.
The zoological park is made up of three parks: Discovery Cove, Sea World, and Aquatica. It offers plenty of entertainment for all ages. Experience Antarctica's icy landscape through the eyes and experiences of Puck, a penguin. This family adventure is an exciting one. 
You will have the opportunity to visit a penguin colony and observe their behavior. Swim with white belugas whales for an intimate experience.
As you get to know one of the Arctic's most interesting creatures, touch and communicate with them under the guidance of your personal animal trainers. 
The mighty Kraken is a fearsome rollercoaster ride that will take you to the top of the world. It was named after the giant of the ocean, which inspired many sailors' fears.
This steel rollercoaster rises above the horizon and is rated as one of the top things to do at the park by riders.
17- Voodoo Doughnut Orlando, Florida
Voodoo Doughnut, which has a loyal following, opened at Universal Studios Florida, Orlando's CityWalk in 2018. This unique bakery is the ideal place for sweets. Now on the east coast, Voodoo originally hails from the west coast of California, giving a new meaning to flavored doughnuts.
Voodoo Doughnut was founded by Kenneth "Cat Daddy", Pogson, and Tres Shannon. A branch of the popular Portland bakery is also located at Universal Studios Hollywood.
It offers a selection of more than 50 pastries as well, according to the Universal Orlando Blog.
The Voodoo Doughnut at Universal Orlando will feature the Portland Cream, Bacon Maple Bar, Oh Captain, My Captain, and a classic Voodoo doll doughnut, complete w/ a pretzel rod "pin", inserted through the frosting heart.
Universal's website has the entire Voodoo Doughnuts menu. These videos will whet your appetite.
18- Ripley's Believe It or Not! Orlando
The Odditorium is the only place to discover a wide range of artifacts, displays, and other exhibits that pay tribute to the bizarre and strange while also marveling at the rare and unusual relics.
The world-famous traveler extraordinaire is host to a gallery featuring the most incredible artifacts around the globe. He also coined the phrase "Believe It or Not!".
Take a self-guided tour through Ripley's Believe It or Not Odditorium and get tickets at BestofOrlando.com. Ripley's Believe It or Not is located in the middle of International Drive.
The museum is located minutes from Universal Orlando, Disney World, and SeaWorld Orlando. This attraction is a great way to have fun with the family.
The entire area is full of oddities and eccentricities.
There are 16 exhibitions, as well as certain shows that feature the most bizarre stories and collections from all over the globe. There's a lot to see, so be sure you have plenty of time.
A shrunken human head, an Egyptian mummy, a tribute for Robert Wadlow (the World's Tallest Man), two-headed calves, illusions displays, and a ten-foot section of the Berlin Wall are some of the exhibits. The Rolls Royce, made from more than 1 million matchsticks, is a very interesting exhibit. 
It is very odd to see a fourteen-foot representation made entirely of dryer hint. This is the complete picture. It is truly amazing.
Ripley's Believe it or Not Orlando has a lot to offer and is not recommended for younger children. However, it will appeal to older children.
19- Pirate's Dinner Adventure, Orlando, Florida
Invite your family and friends to the Pirate's Dinner Adventure dinner theater show. These live shows are full of romance, action, and comedy.
You are invited as a special guest to Princess Anita's evening. Enjoy a delicious appetizer buffet to begin your evening.
Enjoy the King's selection of delicious snacks, salads, and special sauces. The festival buffet will satisfy both royalty and commoners. Don't forget to save some room, as there is an entire feast that will satisfy even the most hungry pirates!
Amazing stunts, spectacular special effects, captivating singing, incredible aerial acts, and delicious food are just a few of the many things you will see. It is impossible to miss out on the excitement of Orlando's next vacation.
Sebastian the Black, an evil pirate has taken Princess Anita and her audience captive. She forces her to try to escape while waiting for one of six pirates to rescue her. Each pirate is colored in Red, Green, Orange Yellow, or Purple.
The show will take you aboard an authentic 18-foot wide, 46-foot-long Spanish galleon replica. It also has huge 40-foot masts. For an extra experience, the pirate ship is anchor in an indoor lagoon pool of 300,000 gallons. The background lighting of the night sky adds to the enjoyment. You and your family can enjoy the show by sitting in a six-sided showcase that houses six additional pirate ships.
Each ship has its own pirate mascot. They cheer on the pirate groups as they sail. Over a dozen actors, dancers, singers, and stunt performers take part in the action-packed scenes. The show is an absolute must-see.
It is full of cannon blasts and awe-inspiring pyrotechnics as well as tons of laughter! This show has a new addition! Discover if the hero can save Princess Anita from an angry Sea Dragon's sharp teeth while he fights off pirates. This story adds more life-size dragons to the already great show and many twists and turns!
You can enjoy a variety of tray-passed appetizers and Radu, the Gypsy King, entertains you with magic and stories about pirates. The cast can be contacted for photo opportunities and you can browse the treasure and booty at the many gift shops.
20 NASCAR RACING EXPERIENCE – Daytona Beach FL
You can take the wheel of some of the most sought-after cars in the world or slide behind-the-wheel high-powered racing cars. We know how to make them wild, whether it's supercars, rally cars, or formula racing.
You're not going to Daytona Beach if you don't stay at The Daytona. It opened this year and is literally just a stone's throw from the Speedway.
The Marriott Autograph Collection includes a series of high-end resort-style hotels that are carefully designed to blend in with their surroundings. 
The lobby at The Daytona has rotating displays of race cars and memorabilia of famous drivers.
The rooms have drawer pulls and doorknobs that look like parts of an auto, and carbon fiber details throughout the furniture. The notepad that you use to take your speeding tickets is included in the room.
21- Seminole Casino – Coconut Creek
You can simply enter Seminole Casino Coconut Creek, Miami, and let the rest take care of itself. Players can earn Comp Dollars playing with their Seminole wild card. There are more than 2,000 Las Vegas-style slots that offer both classic and modern games. 
You can also try the Money link, Al Aboard, and the Vault. Enjoy fine dining at NYC Steak by visiting the Legends Lounge and Coco Bar.
Highlights: Visit the Coco Poker area, which features 23 tables of tournament and live-action poker. Also, take a look at the 70 live table games, including Blackjack, Baccarat, and other games.
22- Angell & Phelps Chocolate Factory Tour – Daytona Beach, FL
They offer the finest handmade chocolates in Daytona Beach, as well as tours of their chocolate factory.
Angell & Phelps has been making high-quality chocolates since 1925. Make sure to stop by our factory tour when you visit Daytona Beach. You will receive your free samples at the end of the tour!
You'll see candy-makers in an old-fashioned way through large cottage windows.
Every factory tour ends with a free chocolate sample!
Each guided tour lasts about 20 minutes
Parking is free and additional parking is available behind the building
Factory tours can be accessed with a stroller or a wheelchair
It's a paradise for candy and chocolate lovers. Angell & Phelps has been in business here since 1940. The Angell & Phelps Chocolate Factory's Beach Street location near the Halifax River is the best for local chocoholics as well as anyone who loves homemade sweets.
Angell & Phelps can make chocolate and candy almost every day. You can get treats as varied as saltwater taffy nuggets and chocolate-dipped bacon strips. This Daytona Beach chocolate factory is a show stopper, but chocolate is the main attraction.
Angell & Phelps is the place to go if you are a chocoholic. Here are the reasons Angell & Phelps should be a top-of-the-line stop for both Mosaic residents as well as Daytona Beach chocolate enthusiasts.
Let's start with some history.
Cora Phelps, Riddell Angel and Riddell Angell founded the chocolate shop named after them in Mackinac Island, Michigan in 1925.
They moved the shop to Daytona Beach at the start of World War II. Since then, employees have been making confections for generations of visitors and locals.
In 1983, Dr. Alvin Smith purchased Angell & Phelps.
23- Ormond Memorial Art Museum & Gardens – Ormond Beach, FL
Ormond Beach residents founded the Ormond Beach Memorial Arts Museum & Gardens in 1946 to honor the sacrifices of World War I and II veterans. Local World War II veterans helped to build the galleries and clear the land for the gardens.
The museum displays paintings, drawings, and videos as well as mixed media, photography, and three-dimensional art.
The museum is adjacent to lush tropical gardens, which offer beautiful surroundings with a gazebo, nature trails, fish pools, and fountains. 
Every day, from dawn to dusk. Visitors are welcome to visit the museum for free. However, a $2 donation is required.
24- Hillsboro Pineland Natural Area – Coconut Creek, Florida
Hillsboro Pineland Nature Area, a 56-3-acre area, preserves the last remaining forest habitat area from a larger natural space that once spanned the state's interior between the Atlantic Coastal Ridge (now the Everglades), and Cypress Creek (near the Hillsboro River).
It is home to many native species of fauna and flora within its pine upland and wetland ecosystems.
These include swamp ferns and zebra longwing butterflies, wood warblers, and a variety of hawk species.
The park's nature trail is 0.7 miles long and includes covered overlooks, interpretive signage, and a concrete walkway. There is also a 2,000-foot elevated boardwalk.
The park prohibits pets, inline skates, bikes, and skateboards. Guided nature walks can be arranged periodically throughout the year.
25-Daytona 500 – Daytona Beach, FL
Daytona Beach is a popular destination for tourists on Florida's Atlantic Coast.
You'll find it close to THE DAYTONA, a hotel that boasts a host of thrilling NASCAR races, 18-hole championship golf courses, and a wide coastline with sun-filled beaches and a lively boardwalk.
Daytona conjures up images that include lightning-fast stock cars and palm trees as well as beautiful Florida winter weather. If you are a fan of sports, especially NASCAR, it is likely that one day you will be able to attend the Daytona 500 at Daytona International Speedway.
Let's say that you have decided to go. What now?
Is it too expensive and difficult to attend NASCAR's Super Bowl? It's not. It is actually one of the most popular (and inexpensive) major sporting events.
It may be too late if you are reading this right now. It's never too late to start planning for next year to make it perfect.
These are seven things that you should know in advance.
Guide to Daytona 500: No. 1 – Travel
If you are interested in attending the Daytona 500 or any other NASCAR event, you must first secure your lodging and plane tickets.
It pays to get this done as soon as you can, regardless of whether it is camping, a hotel, or an RV in the field. These items are subject to fluctuating prices.
They will experience the greatest price increases and demand as the race week draws nearer. It is a good idea to start looking for summer.
Because of the wide variety of accommodations, entertainment, and dining options, "most" people choose to stay close to the beach. You should also remember that there is more nightlife and partying if you stay on North Atlantic Avenue. It is quieter the further you travel towards Ormond Beach. It's also cheaper.
The insider tip sounds great to stay in the infield, but if your vehicle is not available, you will be stranded. If you plan on sleeping in, the roaring cars may make it difficult.
26- SeaWorld, Discovery Cove Orlando, FL
Discovery Cove is a Florida theme park located in Greater Orlando. This is one of the best ways that you can interact with many marine animals, including bottlenose dolphins.
It is adjacent to Aquatica and SeaWorld Orlando, which are sister parks. Discovery Cove guests have the opportunity to interact with exotic birds and tropical fish as well as land mammals.
SeaWorld Parks & Entertainment is the operator of Discovery Cove.
Discovery Cove allows you to make a reservation to talk, touch, swim, and play with bottlenose dolphins. Before moving into the dolphin pool, guests will be given a safety orientation by a trained dolphin adventure guide.
The coral reef at Discovery Cove allows guests to use the park's snorkeling equipment to interact with thousands of tropical fish.
This includes an underwater shark tank and a tigerfish tank. After a Discovery Cove orientation, guests can swim in the Stingray Tank. This tank contains dozens of rays that can reach up to 4 feet wide.
27- Duval Street – Key West, FL
Duval Street is the place to be if you want the authentic flavor of Key West which has the best beaches. You will find a variety of unique shops, restaurants, and exciting nightlife here and AMAZING KEY LIME PIE!
If you're a local, shopping in Key West can be a good time. There are many shops in Key West and most people know where to go. You can browse the charming boutiques on Duval Street or Mallory Square to purchase Cuban cigars or sea sponges.
Enjoy a drink at Captain Tony's or Sloppy Joes to channel Hemingway.
Grab your souvenir  T-shirt and enjoy live music at Hog's Breath.
The famous Whistle Bar balcony is where people can watch, or go upstairs to see the Garden of Eden. Margaritaville offers a delicious cheeseburger. You can then walk the streets while you shop at one of the many quirky shops for authentic souvenirs and local art. 
You can view, feed and pet the thousands upon thousands of crocodiles and alligators that are on display. You will find many exotic birds as you walk through the Aviary.
28- Ernest Hemingway House – Key West, FL
This unique property is located in Old Town Key West and was once home to one of America's most respected authors.
Ernest Hemingway spent more than ten years living and writing here. He called Key West his home and found great comfort in the turquoise waters around this small island.
Take a step back in time to see the gardens and rooms that were home to the Nobel Prize winner's most prolific period of writing.
Tour guides will provide informative narratives during your guided tour.
Enjoy the tranquility of the 40+ cats that live here as you wander through the lush gardens.
29- Fun Spot – Orlando, FL
Are you looking to find a fun place in Orlando? Look no further than Fun Spot. This amusement spot can be found at 5551 Del Verde Way in Orlando, Florida 32819.
It's located just off International Drive near Kirkman at Ferris Wheel and Universal Studios I-4 exit75A. It is open Monday to Sunday, 10 a.m. – 12 a.m., and features Go-Kart tracks and bumper cars, boats, arcade games, and rides. What more can one ask for?
This mini-park is filled with Go-Karts. A Go-Kart armband, which costs around 35 dollars, allows you to ride the Go-Karts unlimited times and play unlimited games.
A similar package is available for 25 dollars for children.
You can also get an armband called the Track Sampler for only $20 which allows you to test each track. This should be enough if your child is a serious Go-Kart enthusiast. They have great deals for those who love Go-Karts.
Fun Spot offers the latest electric bumper cars. You can bounce and bump riders in all directions with circular cars. This is great family entertainment for all ages.
These cars are similar to bumper boats but without water. Fun Spot also offers bumper boats if you want to make a splash. While you motor around with your family and friends, you can also splash and bump under a fountain filled with water.
Both allow you to race like the Go-Karts but you can also crash into other people, dry or wet. These attractions are great for those who like to crash.
Also Read: Ocoee Florida – The Perfect Getaway From Orlando
30- Wonderworks – Orlando, FL
WonderWorks will live up to its name, from the quirky exterior to the most unique things to see and exhibits within the interactive attraction and adventure for the entire family!
Legend has it that the museum began as a secret laboratory that conducted research on an isolated island in the Bermuda Triangle.
Professor Wonder led a group of world-renowned scientists who were charged with harnessing the power and potential of a tornado to make it possible for man.
The tornado's power was unleashed in the laboratory, creating a massive vortex that spun around and tore the lab from its foundation.
The lab was carried thousands of miles by the tornado's power, which landed it upside-down on top of a brick warehouse in Orlando. Amazingly, all the research and experiments survived intact and were functional.
Everything will be upside down when you enter the building for the first time.
Inverting the building is necessary to enjoy it. You can take a look inside the tunnel to see the world flip right-side up.
You can then enjoy over 100 hands-on displays that will challenge children and adults with a variety of hands-on exhibits.
There are many activities waiting for you, including simulator rides that focus on flight and earthquakes, a bed of nails, and devices that let you create your dream rollercoaster and then test it through simulation.
Combining Wonderworks with Orlando Florida vacation packages will make your stay unforgettable.
31- Naples Botanical Garden – Naples, FL
The Naples Botanical Garden is a paradise for those who love the tropical, lush surroundings of the Paradise Coast.
There are ten gardens to choose from, as well as arts and community events that will appeal to everyone who appreciates the beauty of nature.
These are the Best Views from Naples Botanical Garden
The LaGrippe Orchid Garden forms part of the visitor's centre at Naples Botanical Garden. There are many unique orchids on display, including some of the most colorful and striking as well as more subtle varieties.
A large collection of bromeliads and silver trumpet trees can be found in the garden. The soothing sounds of water flowing gently over the limestone from Florida coral provide the backdrop to the tranquility and peace that characterizes Naples Botanical Garden.
The Preserve at Naples Botanical Garden, a sanctuary covering approximately 90 acres, is a beautiful sanctuary. It is home to hundreds of animals and almost 300 native plants.
Nearly 50 gopher tortoises, an endangered species, live in the preserve's uplands habitat and feed off the natural vegetation.
Take your binoculars with you to the south wetland preserve for stunning bird-watching. This protected area offers a unique experience of unspoiled beauty and pure enjoyment.
The center of the Naples Botanical Garden is the Water Garden. This tranquil setting overlooks the Mary and Stephen Byron Smith family River of Grass and is home to water lilies and other beautiful, blooming water plants.
This boardwalk runs through the garden and features a soundstage for outdoor concerts and events. You can check the schedule for upcoming events and plan your trip to include live music as well as stunning views.
Winter favorites include the Naples Botanical Garden Night Lights. The spectacular holiday light show includes entertainment, sweet treats, and family activities. You don't have to make it in December, January, or February? Don't worry! The garden features rotating art installations for visitors.
32- Gumbo Limbo Nature Center – Boca Raton FL
The Gumbo Limbo Nature Center is located among the large homes, large hotels, and restaurants, as well as the beaches along the A1A in Boca Raton.
The perfect day trip for families, this is an educational and inspiring family excursion. You will find a wide range of wildlife and sea creatures at the center, as well as thousands of butterflies and fish.
The center is dedicated to the protection of the local sea turtle population. It rescues, rehabilitates, and releases injured and sick turtles. You can view the turtles in rehabilitation, see how vets treat sick or injured turtles and hold turtle shells to learn more about sea turtles.
Three huge aquariums are available for viewing barracuda and stingrays, blowfish, Manta Rays, and many other fish as they glide through the water.
It is possible to see the scuba divers cleaning the tanks at certain times of the day.
The center is dedicated to the welfare and health of all sea creatures. They also have a research center where hundreds of baby turtles are kept until their release.
33- Legoland – Winter Haven, FL
The LEGOLAND Florida Resort is a family-friendly theme park that offers a variety of shows, rides, and activities for children.
LEGOLAND would not be LEGOLAND if it didn't offer the chance to play with the famous bricks.
You can do this in the lobby, on the LEGOLAND Water Park's lazy river, or at the many activity centers scattered throughout LEGOLAND Park.
LEGOLAND Resort Florida offers two hotels resorts that are fully themed — with a third in the pipeline for 2020. This makes it a great family getaway.
We recommend spending two days seeing the 30-acre protected botanical reserve, separately ticketed water park, and many other attractions.
LEGOLAND is the perfect long weekend getaway. There's plenty to do at this Winter Haven, Florida resort, including mini-figure trading and the triple-decker "couch", which is a high-flying attraction in LEGO MOVIE WARRIOR.
34- Stetson Mansion Deland, FL
John B. Stetson was the man behind America's most famous symbol, the cowboy hat. He built Florida's first luxury estate, Deland, Fla. where he spent 20 years.
This Victorian mansion, measuring 10,000 square feet in height, is one of America's 300 most beautiful homes.
It was also the first home to get electricity installed by Edison (a friend of Stetson). The estate was completely renovated by JT Thompson (original owner) and Michael Solari (current owners).
The mansion is listed on the National Register and contains 10,000 panes of antique glass as well as some of the most intricate three-dimensional parquet hardwood floors in the world.
Stetson was well-known for his generosity to the community, donating generously to charities, and being a progressive employer.
Stetson had a special affinity for DeLand and made it his winter home. He was the principal benefactor of the state's first private university, Stetson University.
In 1889, he brought electricity to DeLand. It became the first Florida area with electric streetlights. The Stetson Mansion, the only Florida "Gilded Age" home, is on the National Register of Historic Places.
35- Lion Country Safari West Palm Beach, FL
Lion Country Safari is worth the journey for animal lovers who want to see their favorite animals in an open setting. It was the first U.S. drive-through animal park when it opened in 1967. Today, it is home to more than 1,000 animals including zebras, giraffes, elephants, and lions.
It is about 5 miles long.
The park also has a Safari World walk-through, which features aviaries, animal exhibits, and a petting area. You will also find boat rides, a merry-go-round, a restaurant and picnic areas as well as gift shops.
Lion Country Safari helps to breed endangered and threatened species such as the brown pelican and white rhinos. It also serves as a rehabilitation facility for wildlife that has been injured. In addition to the Lion Country Safari Campground, there are over 200 campsites.
36- MLB spring training Florida
Spring training is an American tradition of low-key exhibition games. It almost brings the sport back down to its roots in small-town America for a few weeks every year from March through April.
Florida is the center of the action!
This tradition dates back to 1914 when the St. Louis Browns spent their winters in St. Petersburg. Today, there are 15 teams that train and compete in this area, which is known as the Grapefruit League.
Check out the New York Yankees and Philadelphia Phillies
The 8,500-seat Bright House Networks Field in Clearwater is one of the most popular stadiums in MLB. New York Yankees are the most well-known team.
Their stadium, George M. Steinbrenner Field, in Tampa, has seating for 10,387 and is identical in size to the Bronx's.
A miniature Monument Park is available for fans to tour. There are plaques that honor each Yankees Hall of Famer and a crowd at the dugout prior to the first pitch.
Yankees Fantasy Camp is a week-long immersion in Yankee baseball. It includes coaching and instruction from current players, a locker at the clubhouse, and the chance to play against the pros. Get ready to bat!
37- Miami Children's Museum Miami, FL
The Miami Children's Museum allows children to have fun while learning. It's a non-profit educational institution that encourages children to imagine, create, and learn.
It was established as the Miami Youth Museum in 1983.
The facility is 2,000 square feet and welcomes all ages. Its mission is to inspire a love for learning through play and to help children realize their full potential.
The museum is located in Miami and has many areas. You can find a bank, hospital, ship and other important areas. It's always fun to spend time in this Museum with the kids.
They can pretend to be adults for a whole day. This tour is popular with children because they get to interact with the attractions and paint. If accompanied by children, adults cannot enter Miami Children's Museum.
38- Miami Seaquarium Miami, FL
Miami Seaquarium offers a unique opportunity to see Killer Whales and Dolphins up close and personal.
Check out these exhibits:
Dolphin Odyssey: You will be able to swim with dolphins and have a great time. This program allows you to join a team of marine instructors and experience dolphin life up close.
Before you enter the water, a short lesson of 15 minutes will be given to explain their behavior.
you will swim for 30 mins in direct contact with dolphins and experience the thrill of swimming with them. You can touch, feed and play with them as well as swim around the pool.
You can also take photos.
Dolphin Encounter: This educational program focuses on dolphins and teaches you more about their lives.
The program begins with a 15-minute lesson that explains how dolphins live, eat, and behave in the pool.
You will then go to the shallow-water pool, where you can touch and feed the dolphins. Your instructor will be there to guide you.
To understand the instructions of the instructor, all participants must be fluent in English. Participation is open to children aged 5 and over.
This seal program: This unique interaction allows harbor seals to interact in deep and shallow waters. After a short safety and educational talk with one of the seal trainers, you will be able to join the seals in the water. You will swim with our seal friends and be given instructions to give hugs and kisses to them.
39- Universal Volcano Bay Orlando
Water is life!
Joy is the essence of life. This is Universal's Volcano Bay(TM), a water theme park. This is the carefree attitude that the Waturi Islanders, a group of people who live on the Pacific island of Waturi, have lived for centuries.
This all-new park allows you to live the Waturi lifestyle. Here, thrills and relaxation are in perfect harmony. This is a unique theme park where everyone can use the TapuTapu(TM), a wearable that grants them the power to create their own magic.
You can control your position on the rides and unlock amazing surprises all around the park by waving your wrist. Volcano Bay(TM), there are no long lines or carrying rafts around.
You can have a full day of entertainment with nothing stopping you. This gives you more time to slide down, navigate whitewater torrents and drift down winding rivers, or just relax in your own waterside cabana.
40-Universal Studios Florida
If you're a Harry Potter fan, and you're heading to Florida, you need to add Universal Studios to your list of places to visit.
The Wizarding World of Harry Potter is absolutely amazing, and it's worth the trip just for that. But there are also plenty of other fun things to do at Universal Studios, as this is the perfect destination, so you'll never be bored.
Whether you're a kid or an adult, there's something for everyone at Universal Studios Florida and while you're there, be sure to hop on the Jurassic Park River Adventure Ride! 
41-Dry Tortugas National Park
If you're looking for a unique and exhilarating Florida vacation spot, look no further than the Dry Tortugas National Park.
This little-known park is located about 70 miles west of Key West and offers visitors stunning coral reefs, crystal clear waters, and abundant marine life.
Plus, it's one of the only places in the world where you can see Fort Jefferson, a massive Civil War-era fortress. So if you're looking for an unforgettable Florida adventure, be sure to add the Dry Tortugas National Park to your bucket list!
42-Walt Disney World's Hollywood Studios
Walt Disney World's Hollywood Studios is a mecca for movie fans of all ages. From popular ride attractions like The Twilight Zone Tower of Terror to live shows such as Beauty and the Beast – Live on Stage, there's something for everyone. And now, thanks to the new Toy Story Land, even more fun is waiting around every corner! Here are our top five reasons why Hollywood Studios should be at the top of your list when planning your next Florida vacation.
43-Lowry Park Zoo
If you're looking for a fantastic zoo to visit while in Florida, look no further than Lowry Park Zoo!
This world-renowned zoo is home to over 1,300 animals from all over the world. With exciting exhibits and activities for visitors of all ages, Lowry Park Zoo is sure to provide a wildlife experience you'll never forget.
So make sure to add this top attraction to your Florida vacation itinerary!
Also Read: Check out Exotic Animals at the Central Florida Zoo Orlando
44-Marco Island
Yes, Marco Island is located in Southwest Florida and while it may be a bit of a drive from some places in the state, it's definitely worth the trip.
The island is known for its white sand beaches, crystal clear waters, and lush tropical vegetation.
Whether you're looking to relax on the beach or explore all that the island has to offer, Marco Island is sure to leave you with fond memories!
45-Fort Lauderdale
When people think of Florida, Miami and Orlando are the first places that come to mind. But what about Fort Lauderdale?
This lesser-known city is just as worth a visit, if not more so than its flashier neighbors.
With miles of pristine beaches, world-class shopping and dining, and plenty of activities to keep you busy, Fort Lauderdale has something for everyone.
So if you're looking for a sun-soaked vacation without all the crowds, Fort Lauderdale is the place for you.
46-Rock Springs
If you're looking for a rustic and secluded Florida vacation spot, look no further than Rock Springs. This hidden gem is located in the middle of nowhere, but it's well worth the trek.
You'll be able to enjoy nature at its finest while getting away from the hustle and bustle of everyday life.
Spend your days lounging on the white sand beaches of Key West and your nights bar-hopping in Miami – sounds like the perfect Florida vacation, right?
But what if I told you there's a place where you can get all of that plus incredible nature views and wildlife sightings? That my friend, is Rock Springs, that little-known spot on the Sunshine State map.
Here you can kayak or paddleboard through mangrove tunnels and spy dolphins swimming in the morning sun.
Don't miss out on this one-of-a-kind experience!
47-Ginnie Springs
Looking for a fun and affordable Florida vacation? Look no further than Ginnie Springs!
This natural wonder offers swimming, tubing, canoeing, and more – all in a beautiful setting.
And with picnic tables, camping, and cabin rentals available on-site, it's easy to enjoy everything Ginnie Springs has to offer. 
This natural wonderland offers something for everyone, from exhilarating cave dives to lazy float trips down the river. So pack your swimsuit and sunscreen and get ready for some amazing memories!
48-Amelia Island 
Is it just us, or is Amelia Island Florida the hottest spot in the Sunshine State right now?
Between the incredible beaches and charming town, it's no wonder vacationers are flocking to this little slice of paradise.  Amelia Island is the perfect destination.
This quaint Florida town is full of natural beauty and history, making it the perfect place to relax and recharge.
If you're looking for an escape from the hustle and bustle of everyday life, look no further – Amelia Island is waiting for you! So pack your sunscreen and put on your flip-flops – it's time to explore everything this wonderful island has to offer.
You won't regret it!
49-Delray Beach
Summertime is officially in full swing and that means one thing: vacation time! If you're still trying to figure out where to go, we've got the perfect spot for you.
Located on the Atlantic coast in southern Florida, Delray Beach is a great place to enjoy some sunshine and relaxation.
From its pristine beaches and crystal-clear waters to its vibrant nightlife and restaurants, there's something for everyone in this charming beach town.
So pack your swimsuit and sunscreen and get ready to experience the best of what Florida has to offer!
50-Pensacola
If you're looking for a place to vacation that has beautiful beaches, great food, and plenty of things to do, Pensacola, Florida should be at the top of your list.
This city offers something for everyone, from nature lovers who want to explore the area's parks and wildlife refuges to shoppers who enjoy browsing through unique boutiques and art galleries.
And don't forget about the city's world-famous seafood!
Pensacola is definitely worth adding to your travel bucket list.
In Conclusion
So what are you waiting for? Get packing!
Florida is the perfect place to go for the ultimate family vacation, and the best things to do in Florida are only limited to your imagination.
With its beautiful climate, inspiring landscapes, jet-set lifestyle, and diverse wildlife, this state has something for everyone.
Whether you're looking for a romantic getaway or some family fun or adventure-seeking excitement, Florida has it all.
And don't forget – there are plenty of entertainment options available too!
So why not book your flights and hotel today and start planning an unforgettable holiday experience in the Sunshine State?