Can you get to Beer Can Island without a boat?

Yes, Beer Can Island is accessible by a bridge that connects the island with Longboat Key.

Can you get to Beer Can Island by car?

Yes, you can get to the island by car, and your car will probably survive the experience too (if it doesn't there's always a boat)

Does Beer Can Island have a bathroom?

Yes. There are some port-o-potties you can use for free on-site on the island. The island can be accessed for free but amenities such as bathrooms and games require a fee.
A small island located off the coast of Tampa, Beer Can Island is a secluded paradise that can only be accessed by boat. This hidden gem is known for its crystal clear water, soft sand beaches, and incredible sunsets.
Here, you can find peace and tranquility while exploring the island's many walking trails or fishing in the Gulf of Mexico.
With its stunning natural beauty and abundance of activities, it's no wonder Beer Can Island is a popular destination for locals and tourists alike.
What many people don't know about this private, party island, is that it's full of trees and there are so many things to do!
It's one of the best places to drink on the coast!
This little slice of paradise is perfect for beach bums and party animals alike. With its own beach bar and plenty of activities, there's something for everyone on this island. 
If you're planning a trip or just want to learn more about Beer Can Island then read on!
Where is Beer Can Island Located?
This island, full of nature, also known as Pine Key, located in the northern part of Longboat Key, can be found between Apollo Beach in Tampa Bay and MacDill Air Force Base.
It is the very tippy-top part right before you will cross the Longboat Key Bridge.
This is the bridge that connects Longboat Key with Anna Maria Island. There is only one bridge so it is hard to miss.
How Big is Beer Can Island?
Beer Can Island (Pine Key) is a small island in the Tampa Bay area. It now covers about 8 acres of land, per the Tampa Bay Times which makes it one of the smallest islands in Hillsborough County, Florida.
Can I Go to Beer Can Island, Florida?
One of the most visited islands in the area is completely undeveloped. While you can't buy a beer on the island (its name comes from an attempt to establish a tiki bar there), bring your beer, as it's a favorite site for boaters and campers alike.
The "island" is actually several small sandbars that appear at low tide and disappear with the high tide.
If you're looking for the beach, check out Fort Desoto or Indian Rocks Beach, two great spots just north of St. Petersburg Beach. One nearby destination is MacDill Air Force Base which includes one of America's military airpower.
This island is a perfect place to relax and enjoy the Florida sun.
There are no cars or buildings on the island, only a few small beach huts. The island gets its name from the thousands of beer cans that line the shore. So grab a beer and enjoy the view!
Why go to Beer Can Island?
Well, we have the insider scoop for what Beer Can Islanders really love doing most.
Whether you're looking for a place to dock your boat or want some secluded places just outside of town where you can go fishing and explore, there are plenty of activities to keep the party going!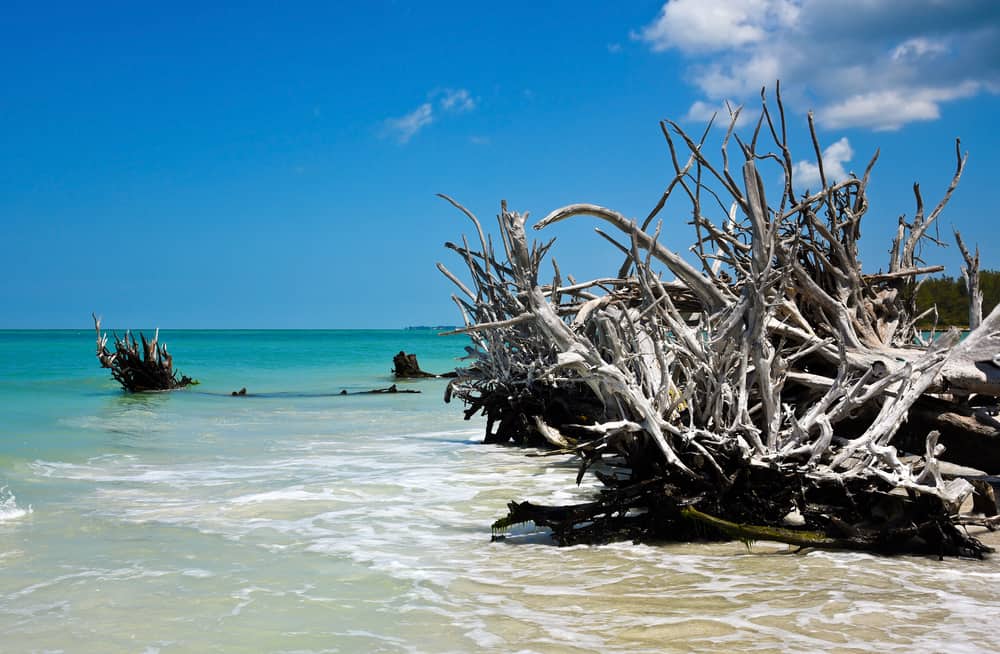 Don't forget: While the sun sets in Florida at around 8 pm, there's always something fun going on at some point, in Beer Can Island.
As locals say "Yea man!" when they hear their friends mention how much fun they had! It's Beer Can Island, FL and it should be on your list of vacation spots for this year!
With so much to do in the sun, you'll never become bored. There are plenty of fantastic restaurants from casual dining to fine dining and even an ice cream shop, waiting for you with some refreshing treats.
What can you do on Beer Can Island?
With the nickname of Pine Key island, there are plenty of activities on-site or locally as the island is located near Apollo Beach Marina and Hula Bay Tampa Marina. 
A lot of boaters visit this island because it is close to Tampa and the surrounding areas. 
Surrounding areas around Beer Can island have many great things to do that are perfect for families with children, couples, and singles alike!
The first thing you should do before you plan to visit the beach at Beer can Island is rent a boat or kayak.
You will be able to explore all the amazing wildlife Beer Can Island has to offer by going fishing, snorkeling, diving or just relaxing in your boat.
There are numerous beaches around Beer Can Island as well which makes it easy for those looking for some sun and sand.
The island has been given its nickname of Beer Can Island because boaters love to drink beer and throw their anchors on this sandy spot.
You will see many boaters enjoying their picnics, sun tanning, and partying on this sandy spot!
Although it's not the most beautiful island, it draws a lot of people. 
Water shoes are a good idea as there are many rocks and oyster shells on the shore and beach that could cut your feet. 
Where can you dock your boat on Beer Can Island?
There is no place to dock your boat but you can anchor on the docking areas around the perimeter edge to get ashore.
What are some fun things to do on Beer Can Island?
There are walking trails along the water where visitors love to bring supplies for a picnic right on the beach and view the sunset.
You might see dolphins playfully jumping in waves close enough that you can feel spray!
You could anchor very close to the beach so you don't have too much to do before you land.
Go fishing or go on a fishing tour
Go golfing at Apollo Beach
Explore the area with Latitudes Tours
Visit the Olde World Sailing Line
Take a boat ride to Anna Maria Island
Go Snorkeling!
Bask in the sun!
Go kayaking and paddleboarding in the ocean or bay
There's a sandy shore where people often swim and hang out with their friends
Have an amazing time, later that evening at Salty Shamrock.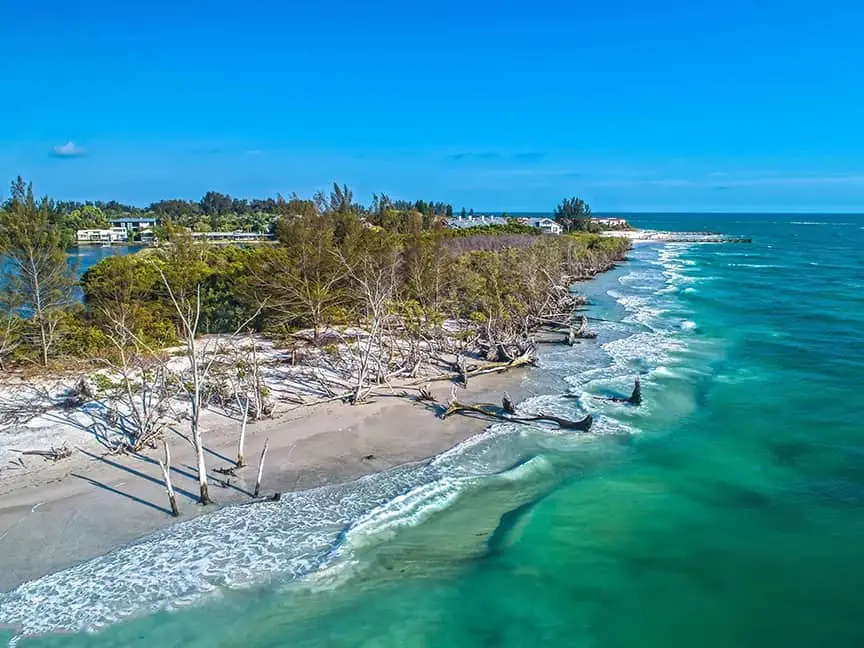 There is something open, guaranteed for everyone, and restaurants near Beer Can Island have excellent views and great food choices.
How much time should you spend on Beer Can Island?
Beer can island is the perfect destination for those who want to spend a weekend in Florida.
You could explore all of its nature, beauty, and history while making time for some fun and relaxation too, such as checking out one of the many, nearby restaurants on the beach, with excellent views.
Depending on what types of activities you search for, such as camping, beaches, a tiki bar, or wanting to party, the average visit will be about two days but you could stay longer if you wanted!
You'll definitely want at least two days but it's possible to stay for an entire week, enjoying all of the popular adventures this location has to offer, so get your plan in place and come for a visit.
I personally think March is a great time of year but you're going to have fun regardless of when you plan to visit!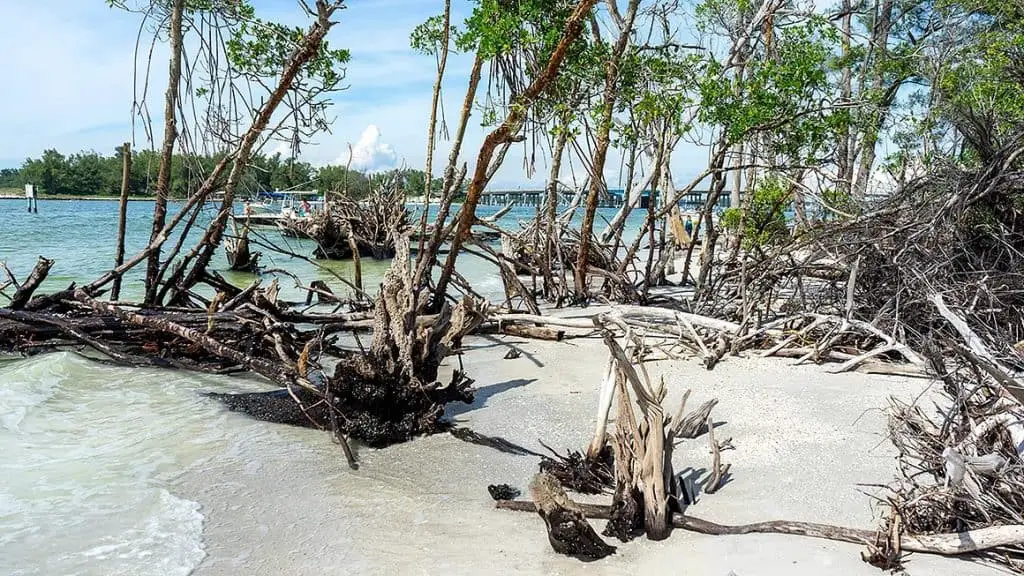 If you're looking to stay longer than just one day, there are three options:
You could find an anchorage offshore from Beer Can Island in order to be able to come ashore every other day or so by dinghy.
Stay at a hotel with water access such as the Island Time Inn Suites.
You're in the right place if you want to have a weekend of fun and relaxation on Beer Can Island!
Whether it's fishing, golfing, exploring nature, or just relaxing under the sun. Beer Can Island has something for everyone.
Plan your visit as soon as possible and don't forget to book at least two days because there is so much to do on this Florida island destination that you won't want to leave after one day!
For more information:
Beer Can Island is located at:
1 Beer Can Island way
Apollo Beach, FL, FL 33572
Wrapping Up
Beer Can Island is a great place to enjoy the outdoors and relax with friends. There are plenty of activities to keep you busy, and the scenery is beautiful. 
Beer Can Island is a great place to relax and enjoy the beautiful scenery.
It is also a great place to find fresh seafood.
There are many activities to keep you busy on the island, including swimming, fishing, and kayaking.
If you are looking for a place to get away from it all, Beer Can Island is the perfect destination.
So come on in, grab a drink, and make some new friends!