Springs near Orlando Florida are among the most popular tourist destinations in Central Florida. If you're looking for a place to enjoy the outdoors and take in some stunning scenery, look no further than Central Florida's many spring-fed rivers.
These refreshing waterways offer visitors a chance to cool off and escape the heat, while also providing plenty of opportunities for swimming, fishing, canoeing, and kayaking.
Best of all, they're all located just a short drive from Orlando!
We've compiled a list of the top seven springs near Orlando, FL., as well as other local attractions that you can enjoy during your trip.
So whether you're looking to beat the heat or just enjoy some time on the water, be sure to check out one of Central Florida's many spring-fed rivers. You won't be disappointed!
Let's start by talking a little bit about Orlando itself and its beautiful scenery!
This area has plenty of natural beauty from lakes to waterfalls, not to mention many different fun theme parks like Walt Disney World Resort, which are all within an hour or two away by car, if you're looking for something specific, making them perfect spots to visit during your next vacation!
These natural spring locations provide spectacular views of wildlife habitats as well as opportunities for recreation in tranquil settings.
Each spring has its own unique features along with recreational activities appropriate for all ages and skill levels.
Whether you're looking for a day trip or an escape from the winter blues, here are some destinations that will quench your thirst and keep you cool this season.
This first stop on our journey to find Florida's most refreshing springs is located just south of Apopka in Central Florida, and just a short drive from downtown Orlando.
The park offers more than 600 acres of forest land with canoeing opportunities as well as plenty of hiking trails to explore.
There are also rustic cabins available for those who want to stay overnight!
For a little added adventure, visitors can go tubing at any time during their visit by renting tubes right at the entrance gate and putting them in at either of the two designated spots.
This park has one of the highest water flow rates for a single-celled spring on record, with an average discharge of about 40 million gallons per day.
The springs are rich with wildlife and vegetation which provide recreation for visitors to this area.
It also has public restrooms located near parking spaces so visitors can freshen up before starting their day exploring this beautiful state park.
You'll even find an amphitheater where you're able to enjoy educational presentations about the area's natural resources.
The park offers activities to kayak, canoeing, hiking trails, biking trails, and fishing areas with both freshwater
Weeki Wachee Springs is an absolutely gorgeous state park in Spring Hill, Florida, which is a short drive from Tampa and Orlando.
It was once a struggling little town on the verge of extinction when its natural beauty attracted tourists to make this their vacation destination spot!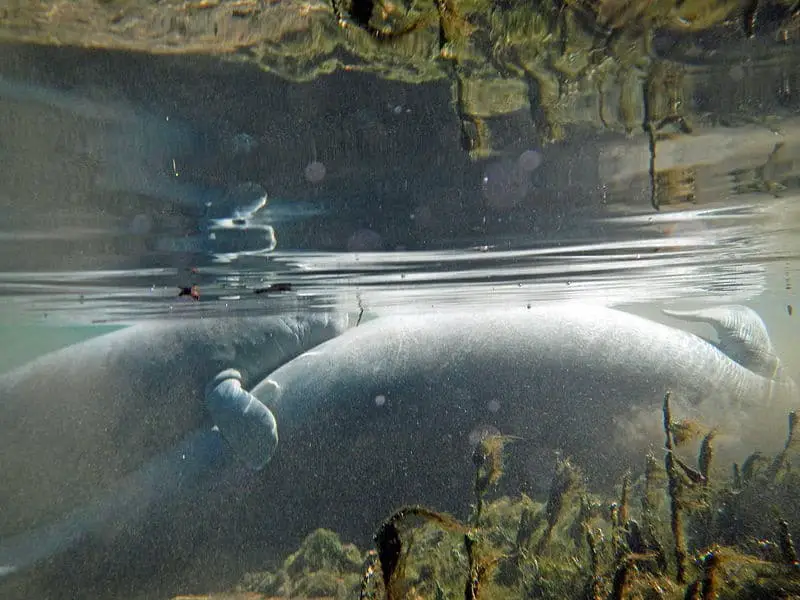 With 60 miles (97km) of waterways flowing through lush forests and past beautiful homes, Weeki Wachee Springs has evolved into one of Florida's most popular tourist attractions during winter months for those wanting to escape chilly northern temperatures.
After renting a kayak, the journey begins in the state park and is a self-guided 5.5-mile trip that will take about 3 hours without stopping if you don't stop too often to paddle around and swim to enjoy both yourself and wildlife sightings alike.
Make sure to bring along water and a picnic lunch so you can travel at your own pace!
The clear waters make spotting nature as easy as it's ever been before with manatees, otters, and turtles being seen regularly which makes this place one of Florida's top spots for outdoor adventurers who want more than just sunbathing on white-sand beaches all day long during their vacay.
The spring would be ideal as a summer vacation spot due to its natural beauty and availability of fresh drinking water.
Rainbow Springs was named for the beautiful rainbow that can be seen in its water.
The spring consists of three different levels (at varying depths) where visitors can swim or climb down to see a variety of wildlife from turtles to alligators.
It's one of the most popular destinations in Marion County with more than 180,000 annual visits!
There is also an observation tower at this site which provides panoramic views of Rainbow Springs State Park as well as other parts of the surrounding area including fruit farms and citrus groves.
The home is not just for animals like turtles but also for fish who make their own natural habitat thereby building nests out of rocks under low-lying waterfalls.
This is a great place for swimming or snorkeling in the crystal clear water, and it's also perfect for nature-lovers who enjoy their solitude as there are plenty of opportunities to get away from the crowds!
If you're looking to see some wildlife up close this is your spot – just be careful not to disturb any animals by getting too close so they can have space and peace.
The park offers picnic tables where visitors may stop for refreshments after exploring Rainbow Springs Park, but note that alcoholic beverages are prohibited on Site.
De Leon Springs State Park is about an hour and a half drive from Orlando, Florida.
This park offers plenty of hiking opportunities with a large variety of plant life both uncommon in the state such as red cedar trees and some typical plants like oak or water oaks.
One popular activity at this park is kayaking on its crystal clear waters which are also great for fishing during certain times of the year when they aren't too rough.
There's always something to see here, whether it be alligators sunning themselves by the shoreline or turtles basking in the sun! The springs offer fresh drinking water and mineral-rich treatments.
The springs offer fresh drinking water and mineral-rich treatments.
The park is open from sunrise to sunset, 365 days a year, so there are plenty of opportunities to enjoy this one-of-a-kind Florida treasure. 
Admission costs $6 per vehicle (two to eight persons per vehicle), $4 per person for single occupancy vehicles, and $4 per person for motorcycles.
Additional passengers pay $2 for pedestrians, bicyclists, and cyclists. $75 plus tax for pavilions 1 and 2. Each can seat 50-60 people and has a large grill, electricity, and water.
De Leon Springs State Park offers plenty of hiking opportunities with many different plant life found within its borders such as red cedar trees (uncommon in Florida) and common plants like oak or water oaks.
One popular activity at this park is kayaking and paddling along on its clear blue waters which are great for fishing during certain times when they're not too rough – depending on what season it is, of course!
There's always something to see here, whether it be alligators sunning themselves by the shoreline or turtles basking in the sun.
The spring offers fresh drinking water and mineral-rich treatments – perfect for anyone who is seeking a luxury spa experience while on vacation.
When visiting De Leon Springs State Park remember these tips: arrive early, wear sunscreen and bug spray, bring your own towel, and wear comfortable clothes and shoes appropriate for hiking.
Most of the trails at De Leon Springs are shaded by oak trees so be sure to pack sunscreen with you.
The Ocala National Forest is a great place to find some peace and quiet.
Alexander Run
Alexander Run springs have several options for swimming, tubing, and fishing in the crystal clear, natural springs.
If you want to get away from it all head on over to Ichetucknee Springs which offers excellent hiking trails among other activities like canoeing or kayaking through the scenic cypress swamps.
Alexander Run and Juniper Run are two of the most popular routes. Both rivers originate from natural springs within the Ocala Forest.
There are many more springs near Orlando so make sure you plan plenty of time when exploring this area!
You can enjoy the refreshing water, or hang out at your campsite and read a book while you listen to the sound of one of these natural wonders.
Juniper Spring
The Juniper Springs River Run runs longer and faster than Alexander. It is also rumored that it is more exciting than Alexander.
One of the most popular things to do in Juniper Springs is a very famous paddling trail called the Juniper Run.
For those who have never heard of it before, this 7-mile long course runs from the recreation area all the way down to Wayside Park.
The only downside about this run is that you must be experienced and skilled enough in order for your trip along with it not to go too smoothly or else serious injury could occur!
If you're an excellent kayaker though then by all means include both on your list; just make sure some more challenging activities are included as well so that there will be something for everyone at any skill level.
Blue Spring State Park is one of Florida's most beautiful natural springs and parks. It features a gorgeous spring-fed lake and the second-largest manatee population in the world.
The park has plenty to offer, whether you want to explore on your own or take an organized boat tour with friends and family!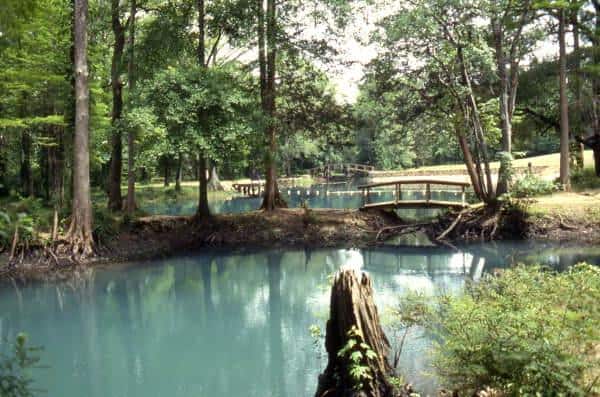 You should add Blue Spring State Park as one of your Florida springs visits, as it should be at the top of everyone's Orlando Springs list!
What does this place have?
The scenic waterfront boardwalk winds its way around the recreation area where families can fish from docks or kayaks while kids play in water sports areas; picnic tables are scattered along shaded paths leading through the pine forest.
Visitors also enjoy the shady campground with hookups for RVs and tent camping.
Also Read: Arrowhead Campground in Ocala, FL
The park offers a variety of educational programs, including canoe trips on the citrus creek, environmental education classes for school groups, and guided tours to view wildlife in their natural habitat.
The boat tour following the shores of Lake Blue Springs is narrated by an experienced biologist who points out various plants, trees, and animals along the way.
Some activities you can do at this place are:
Kayaks
Picnic tables are scattered along shaded paths leading through pine forest
Playground areas where kids play in water sports areas while families fish from docks or kayaks around them
You can enjoy the shade at campsites that offer electrical hook-ups for RVs and tents so they can stay overnight; enjoy the shady campground as there are plenty of picnic tables scattered along shaded paths leading through pine forest with a variety of educational programs such as canoe trips on the citrus creek, guided tours and environmental education classes for school groups.
Rock Springs Kelly Park is also known as Rock Springs Run, located in Apopka, Florida, and offers a variety of water features for swimmers.
I was intrigued by Kelly Park Rock Springs's natural lazy river and added it to my Florida bucket list.
It is located an hour north of Orlando, so it's easy to get to on any of your trips to any Orlando area theme park.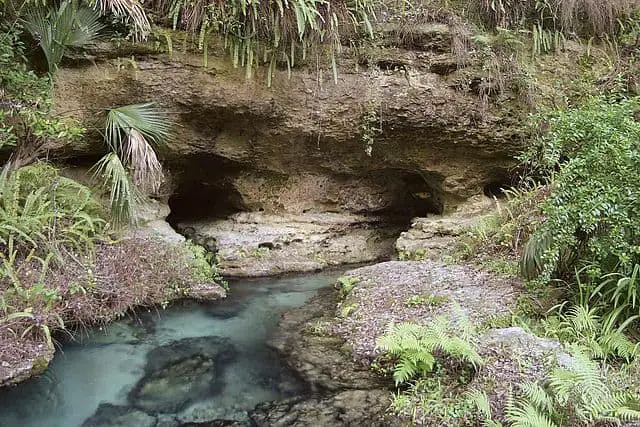 There are two lakes (swimming areas) for recreational activities such as kayaking, fishing, or canoeing with boat rentals available at the lake.
The main attraction is Rock Springs which has been designated an official swimming hole, due to its gentle slope into deep water without any drop-offs that can cause injury from jumping on offshore rocks near cliffs.
It also contains natural rock formations and limestone sides bearing evidence that it was once part of a cave before being filled up with sand over time after centuries of erosion.
Ginnie Springs is a great place for all outdoor enthusiasts. The springs are located in High Springs, Florida which is about halfway between Jacksonville and Gainesville.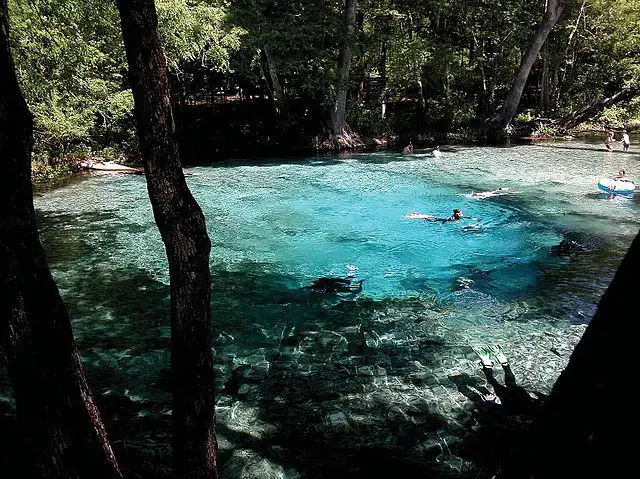 What do I love most about the Ginnie Spring area?
I love everything about it- more than just the spring itself. I think its beautiful landscape offers such tranquility and relaxation;
It really does take me back to nature when I've had too much technology or stress from everyday life.
Plus, there are so many other attractions to explore if you're visiting the area:
Bambi's Country Market & Restaurant offers fresh, healthy food for visitors. It is a family-friendly environment with gluten-free options.
The café is also home to an array of local produce that can be purchased in season or on your way out!
There are some hiking trails that offer scenic views of the spring as well! These are perfect for those who love nature photography.
I could go on about this place all day but I think it best if you take my word for it and visit soon enough 😉
Just remember not to disturb any wildlife while exploring– they deserve their natural habitat just like we do 🙂
Silver Glen Springs is a hidden gem that's in the middle of the forest and has plenty to offer.
When people visit Silver Glen Springs, they are surrounded by the great beauty of Ocala National Forest.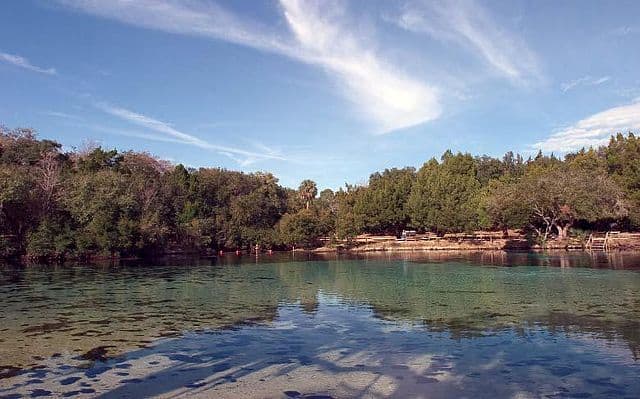 However, this is not always possible as it's often crowded on weekends and holidays. In the summer months, this place can reach capacity, so arrive early!
If you're lucky enough to get a quiet day here though, there might be no better place in Florida for swimming than in the clear spring water, swimming area of Silver Glen Springs!
It goes without saying that because of its cultural significance–it has been around 10 thousand years!–this area is one of the most important archaeological sites in all Floridian history.
You'll find fresh, cold, crystal clear water. The springs are open for swimming year-round, while the picnic tables make it a great place to stop on your way through or stay all day.
It's so relaxing that you might even forget about reality outside of its boundaries!
This natural pool made from limestone springs sits right below Indian shell mounds which have long since been excavated so used elsewhere- like road surfacing or homes' foundations.
There are even picnic tables for you to enjoy your experience with friends or family, but be careful if there are any pesky vultures around!
Are there alligators in the Florida Springs?
No. Florida springs are not alligator-infested like you may have heard or seen on TV!
The only exception to this would be the headwaters of some south-eastern coastal rivers where there is more fresh water and salt water mix, but even then they're not always present.
Is it safe to swim in Springs?
Yes, it is safe to swim in Springs. The water quality of the springs is tested for contaminants regularly and meets standards set by state law.
A visit to any natural springs near Orlando is not complete without taking advantage of the crystal clear water.
Be sure to bring all necessary equipment: swimwear, snorkel and mask, tube for floating in the water (with some friends!), and waterproof card case with your belongings securely stored away inside it!
Do be wary of what's at play on or near that bottom though; you don't want any nasty surprises when you get out after so much fun.
What is the most beautiful spring in Florida?
It's hard to decide which is the most beautiful spring in Florida.
One of the most beautiful springs in Florida is Silver Springs.
The water is crystal clear, and you can enjoy watching dolphins play around as they break through the surface of the springs.
If you visit during turtle nesting season, there's a good chance that turtles will nest right next to your feet.
Natural springs are becoming increasingly rare and they are an important part of the natural heritage of Central Florida.
In Conclusion
There is nothing better than experiencing the beauty of a clear spring on your own. I encourage you to visit a spring with friends and family!
The water will be refreshing, and the air around you will be filled with the sounds of nature.
Visiting the springs is the perfect weekend trip while saving money on your hotel stay.
Camping is always less expensive than the cost of a hotel room!