Are there alligators at Rock Springs Kelly Park?

Yes, alligators are sometimes found at Kelly Park/Rock Springs. Although it is rare, we occasionally see alligators or snakes in the water. Staff on the site should be notified if you spot an alligator. They will verify your sighting and activate any protocols.
Kelly Park in Rock Springs, Florida is a beautiful place to visit. This park has a lot of amenities and activities for the whole family.
There are playgrounds, picnic areas, walking trails, and many other things for people to do at Kelly Park, Florida. Their website offers all kinds of information about fun activities and attractions so there's always something new to see!
If you are visiting Orlando, spend a day at their beautiful county park is located only 40 minutes north of the city.
Kelly Park is a tiny piece of paradise!
Can You Canoe at Rock Springs?
Yes. Although you can rent a kayak or canoe and paddle upstream or downstream, the real thrill is the downhill round trip. King's offers a canoe, paddles, floatation jackets, and pick-up and return service to Wekiva Marina for $30.00. 
You can rent (pick up and return) at your own pace. 
The run, which is approximately 8 miles long, can be done all downstream.
It takes around 4-6 hours to complete the one-way trip. This depends on how many times you swim or stop to eat a picnic table lunch.
An interesting story about Kelly Park that I heard from a friend…
This story is about a young man who lives in Jacksonville and has been wanting to go kayaking for a while, but never had the time or money to do so.
He learns about Kelly Park from his coworker and decides he will take a trip there with his friends.
They arrive at Kelly Park around noon on a Tuesday, which they're told is not very busy by the park rangers. The group rents some kayaks and starts paddling out into the water after being instructed on how to operate them safely.
One of the guys takes up an oar because he's never done that before, but soon realizes it's more difficult than he anticipated– even when helped by one of the other coworkers who know how to row!
They decide at this point it would be best if one person stayed with the kayak while everyone else went exploring for a little bit. Everyone agrees and goes their separate ways for about thirty minutes or so.
When everyone returns, they find that the kayak has been flipped over and is floating in circles. They do everything they can to try and get it back on track, but without a paddle or oar, there's not much hope of that happening anytime soon.
Everyone gets out their cell phones and calls for help after realizing how screwed they are– except one coworker who doesn't have any service.
So they do what anyone would do in this situation…they take selfies!
LOL…yes, selfies!
They spend the next few hours taking pictures and hanging out, waiting to be rescued by park rangers or some other people who might see them on their way through.
What a way to spend a few hours?! 
The good news is that it was super hot outside (it's Florida, after all) and the springs were super refreshing. Even though the kayak was of no use, the rise from underground rivers at an astonishing rate of 26,000 gallons per minute.
It feeds a string of swimming holes with clear water at a constant temperature of 68 degrees.
A creek that has been replenished is just downstream. It flows down a shallow stream, which is popular with waders and tubers in summer.
You can launch a kayak or canoe, and paddle down Rock Springs Run for an 8.5-mile scenic paddle through a sub-tropical forest.
The river merges with Wekiwa Springs Run to form the Nationally Listed Wild and Scenic Wekiva River.
There are 26 campsites within the 325-acre Kelly Park. They are located near the popular day-use area. Each site is 35 to 70 feet deep and has a comfortable separation.
Rock Springs has a lot of wildlife because they have more habitat. You can see the vast area of protected green areas on a Google map.
Nearly all these natural areas are connected to one another. This allows wildlife to roam free and expands their natural habitat.
Kelly Park
Wekiva river buffer conservation zone
State preserve for rock springs
Rock springs kelly Park
Wekiwa springs state park
State preserve for rock springs
Black Bear Wilderness Area
Rock Springs Run
Wekiwa springs state park
There is a popular tourist attraction in Florida that is the subject of much conversation, Kelly Park Rock Springs.
This small but popular mountain spring is one of the best-known in the Sunshine State.
The water from this spring can be found in the Atlantic Ocean, so when it rains it drains into the ocean, and Kelly Park Rock Springs' water evaporates to form salt water.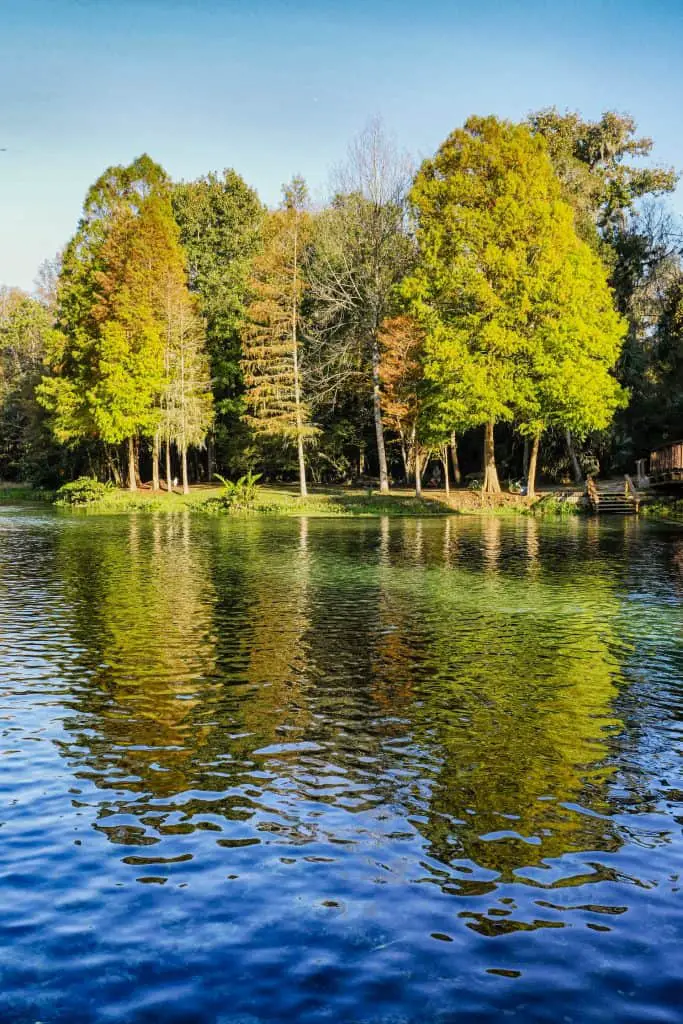 This natural wonder has drawn people for as long as anyone can remember.
Back in the day, there were two small log cabins that sat just beside the springs, today this small but popular tourist attraction sits about ten acres of beach property and offers a variety of attractions for visitors.
There are over forty different trails to hike, boat, or bike through the park.
Most of the tubes in the park are wheelchair accessible, so you can enjoy them without any special needs.
Before you get too far, make sure that you visit Kelly Park Rock Springs in order to have the opportunity to check out the rock springs themselves.
There is no camping allowed at this county park, but if you would rather camp elsewhere, there are a number of campsites around the area.
This is an excellent way to experience Florida's natural preserves. At certain times of the year, Kelly Park will be operating a campground, which means you can visit while you're in the area.
There is also a variety of different activities that you can do while you're here, including bird watching, nature walks, hiking, swimming, fishing, horseback riding, or even kayaking.
One of the things that really made me want to come back to Kelly Park Rock Springs was the prospect of going camping during the day, then having a fun day at the beautiful Kelly Park Picnic Area afterward.
There are several different options for camping at Kelly Park, and the most popular is to go for one of their picnic tables. There is a fee for using the picnic area, but it is well worth it to me because there are so many beautiful sights to see, with amazing fall foliage covering the trees and the mountains in the background.
In addition to the picnic tables, there are a number of tubes for tubing that you can take along with you, and a very nice pavilion that offers shade from the hot afternoon sun.
After a wonderful day at a park, all that remains is to relax on the lodge bed and eat food provided by the park campground cook.
If you want to visit the most popular tourist spot in Florida, then it has to be Orlando. Orlando has been a hub for tourists for decades since it was first established as a city.
The Disney World Resort is also located in Orlando, and tours of this resort are often included in a vacation package to Key West. Another wonderful thing to do while you're in Orlando is to take a Disney Cruise, stopping at several ports along the way. You can explore the Disney theme parks and even go to the edge of the black jungle.
For those who like excitement, a safari cruise is a great choice in Orlando, because you'll get to see alligators, crocodiles, and all kinds of other exotic wildlife.
How much does it cost to get into Kelly Rock Springs?
Rock Springs Run State Reserve is available from 8 a.m. to 6 p.m., 365 Days a Year.
Wekiwa Springs State Park's office hours are from 8 a.m. to 5 p.m. Monday through Friday.
Fees
Honor admission fee: $3 per vehicle (maximum 8 people per vehicle).
$2 for pedestrians, bicyclists, and extra passengers.
Primitive equestrian camping fees: $5 per person per night.
What is there to do in Kelly Park Florida?
Enjoy a day relaxing at the park. You can grill lunch, eat on the picnic tables and walk along the waterfront. This area is well-known for its exceptional windsurfing. 
The park has a playground, toilets, drinking fountains as well as horseshoe pits, volleyball courts, and a restroom. 
Enjoy the Florida sun and the beach by sailing, or just relax on the sandy shore and let your feet dangle from the dock. 
There are many tours departing from Kelly Park. 
How long is Kelly Park tubing?
The spring run is the main attraction. It offers a short, but thrilling tube run and a fun, but rocky, downstream swim.
Kelly Park is only open to a limited number of people each day, as it gets full to capacity. This means you should arrive early.
It is a great place to swim or tub on hot summer days, fall or spring because of its cool temperatures.
You can run the entire tube route for 3/4 mile, but you can also get out in the main spring pool earlier.
Rock Springs Run eventually flows into the Wekiva River, just outside of Wekiwa Springs. Both rivers flow through miles and miles of protected forest and offer a wild and enjoyable paddling route.
The tube run is wonderful and cold.
There are many lifeguards to ensure safety.
How Do You Kayak in Rock Springs?
It can be difficult to navigate the swift currents on the upstream paddle, especially in an inflatable kayak. You will have to navigate branches, logs, and stumps sometimes because the passage is narrow and shallow.
It's still a beautiful journey that is worth the effort. It's a gem, if I may say so myself.
The name "Emerald Cut" comes from the lush sub-tropical vegetation that runs along every bend of the spring run. The bright greens can blind you.
The waterway below Kings Landing is deeper and wider, which makes the currents less intense.
You have two choices when you launch at King's Landing.
You can either go left and paddle/float downstream for 8.5 miles to Wekiva Island Marina, where you can catch a shuttle to your car. (We didn't do it so I don't know much about how it works).
Another option, and what we believe is the best paddle, is to paddle upstream 1.5 mi to Kelly Park.
In normal conditions, Kings Landing provides a shuttle service to kayakers at Wekiva Island entry Take-out. However, this service is suspended until Rock Springs Run has been cleared.
If you're lucky, you might see rarer Florida wildlife such as:
Black bear
Alligator
Bald eagle
Does Rock Springs Have a Campground?
Yes, Kelly Park's Camp Joy (Group Camping) is located near Kelly Park/Rock Springs and the campsite offers summer camp all year. You can choose to camp in tents or dormitory-style with your favorite group.
Camp Joy has a meeting room, a dining hall with a kitchen, picnic pavilions, and sand volleyball courts.
This park offers visitors the chance to enjoy beautiful views and have a picnic while enjoying time with their friends.
Are you looking for a family camping experience?
Try Kelly Park, it is just next door.
Kelly Park has been a favorite campsite of ours for many years. We love the closeness of the campground to the tubing area and the wooded feel. We were surrounded by noisy campers. Loud voices were heard until the early morning.
They were not drunk (no alcohol allowed within the park, they WILL verify), but just loud.
At the beginning of our stay, it rained heavily. There was also standing water at a few locations which encouraged mosquito breeding. Park was busy on weekends but calm during the week.
If you don't act in a family-friendly manner, you will be asked to leave, even before morning.
Paddle Options
Florida is not short of amazing places to kayak. Rock Spring Run may not be well-known, but it's a great place to kayak.
Rock Springs Run offers a few options for your paddle adventure. If you don't live in the area, you can paddle directly downstream for 8.5 miles.
However, if you aren't a native to the area, you can add 2 miles to get through the not-to-be-missed Emerald Cut.
Emerald-Cut is a 1-mile upstream paddle that takes you through the crystal-clear waters of nearby Rock Springs.
Others may opt to only do this section and take as long as they need to explore the 2 miles up and back.
You can still paddle the 8.5-mile downstream section if Rock Springs is close by.
Some people may choose to paddle out for an hour, return to their car, and then go back to their parking spot.
This will save them the cost of a shuttle.
Whatever your choice, you will be able to appreciate this spring run and its importance.
Looking for hotels near Kelly Park, Rock Springs?
If you're looking to stay closer to the action in Orlando then we recommend staying at one of the many hotels in Apopka, FL.
TownePlace Suites by Marriott Orlando Altamonte Springs/Maitland
Free perks
The hotel has an outdoor pool as well as a fitness room.
Freebies are not to be missed: guests get free continental breakfast, WiFi, and self-parking. There is also a 24-hour business center and a picnic area. Dry cleaning is also available.
Free WiFi, kitchens
Each of the 117 apartments has a fully equipped kitchen with a stovetop, microwave, refrigerator, and dishwasher. Additional amenities include WiFi, pillowtop mattresses, and LCD TVs with satellite channels. Housekeeping is provided once per stay.
SpringHill Suites Orlando Altamonte Springs/Maitland  
SpringHill Suites Orlando Altamonte Springs/Maitland offers an indoor pool, hot tub, free WiFi, and a complimentary hot breakfast each morning. 
All-suite accommodations include a microwave, a small refrigerator, tea- and coffee-making equipment, and a mini-fridge.  
Altamonte Springs hotel offers a business center, a fitness room, and meeting rooms. Dry cleaning and laundry services are also available. A safety deposit box is available for added convenience. 
Don't Forget!
Kelly Park, Rock Springs also offers great camping options for all of your Florida adventures.
Rock Springs Run is a beautiful Florida paddling destination with two options for an upstream paddle.
You can do the full eight-and-a-half mile downstream tubing to Wekiva Island Marina, or you can choose to only paddle one up a stretch of Rock Spring Creek and be able to explore this pristine spring run in all its glory. 
Kelly Park, Florida has been a favorite campsite of ours for many years. We love the closeness of the campground to the tubing area and the summer wooded feel.
If you're looking for a unique outdoor adventure that includes swimming, campsites, river tubing, and hours of fun that will take your breath away and give you some time outdoors with friends, family, or fellow nature lovers alike – look no further than Rock Springs! 
If you're interested in exploring more about Kelly Park, Rock Springs, book your trip today!